Oklahoma's Kate Barnard: an untold (until now) leader in Oklahoma and Indian Territories
Toni Morrison would have loved Kate Barnard's story.  She was fascinated by Oklahoma history in her novel, Paradise. As you read this piece, can you see particular bits that Morrison would have liked?
She received the nickname "St. Kate" by folks over a century ago, perhaps fitting of her Irish Catholic background. But today, I'd just like to say that she makes me believe in the human spirit.
She was born in 1857 in Nebraska and at age 2 when her mother died, her father farmed her out to various relatives. She gained a teacher's certificate in Oklahoma City at St. Joseph's parochial school and taught throughout the Oklahoma Territory.  Kate then went to work for the Territorial Legislature in Guthrie from which she gained the position of Hostess from the Oklahoma and Indian Territories to represent them at the International St. Louis Exposition in 1904. There, she encountered not only the newest trends—new automobiles for private ownership; electricity lighting up the outdoors—but the progressive reformers such as Jane Adams (Chicago, Hull House).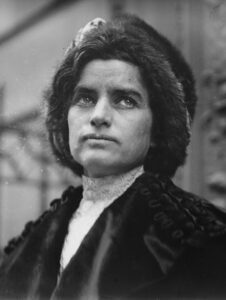 And then she soared: through the New Oklahoma State (encompassing both OT and IT) Legislature to become the Head of the new State Commission of Charities, for which she was qualified after having gathered 10,000 garments together for impoverished children in the Reno Street district south of downtown Oklahoma City. She was the first female in the U.S. to serve in such a high state government position.
Her controversial edge as a progressive eventually led to her downfall.  Frequently and vocally, Barnard condemned the criminal takeovers by whites of native-owned land—especially egregious being the swindling of the Osage in northeastern Oklahoma after the discovery of petroleum fields.  She was dismissed. No one in power wanted to hear the arguments for protecting Native American rights to land ownership.
Kate Barnard needs a major celebration due her by the state of Oklahoma. Thankfully, there is a great biography of her by Connie Cronley,  A Life of Fire: Oklahoma's Kate Barnard. Hear about this book from the author on "A Very Oklahoma Podcast" from the Oklahoma Historical Society.